New KW Inventory          T-Series Kenworth          K-Series Kenworth         History of Kenworth          Photo Gallery
---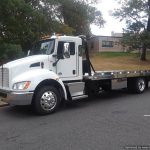 Our Sales Department at Scheeler Trucks can offer the you a variety of both new and previously owned vehicles. Whether you are looking for a custom built vehicle or one in stock, our friendly and experienced sales staff will guide you through the vehicle selection process. Purchasing a vehicle from Scheeler Trucks assures you of customer support long after the sale is complete. Our reputation has been built on honesty and fair and competitive pricing. Click here to go to our new vehicle inventory page.
We have been a proud dealer of UD Trucks since 1986.  It is with much sadness that we wish to inform you that UD Trucks of North America will no longer be importing trucks to the United States.  Although we will continue as a parts and service provider for all of your UD needs, we will no longer have new UD units to replace your current ones as they go out of service.
We are pleased to be offering a new line of Kenworth medium duty cab overs and conventional trucks.  Kenworth has been manufacturing domestically made trucks for over 90 years.  These are medium duty trucks with the heavy duty engineering that people associate with the Kenworth brand.
There is a reason that the Kenworth Logo has become synonymous with "The World's Best".  Check out this video to learn more about Kenworth.
Click on the picture to the left to view the photo gallery of trucks. This gallery is just a sample of the endless possibilities and configurations that are available, as each truck is built to each customers unique specifications and needs.